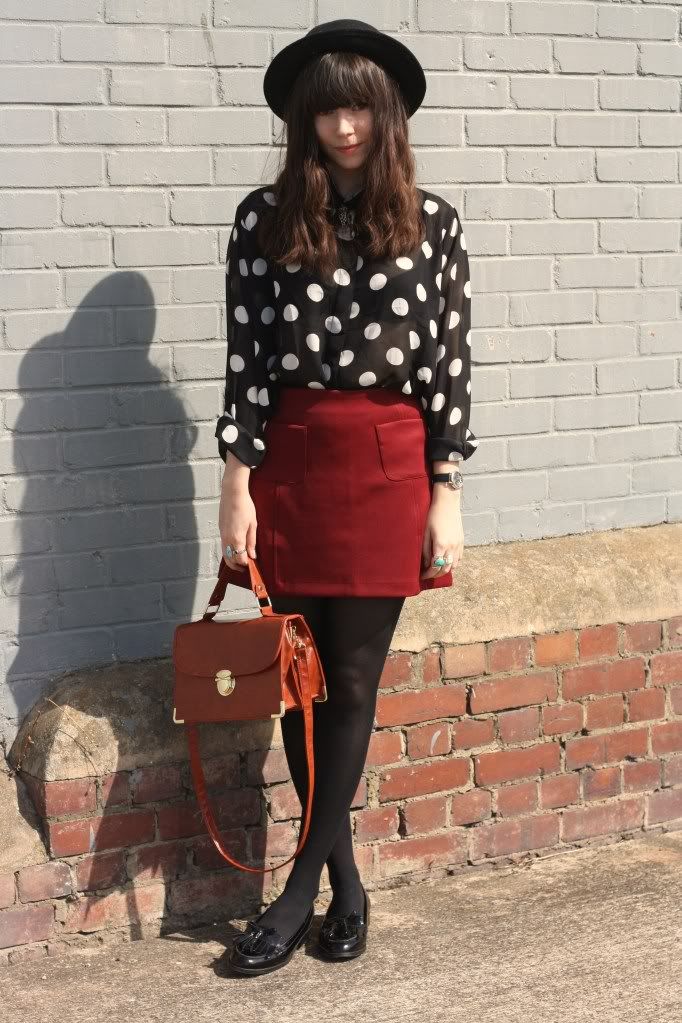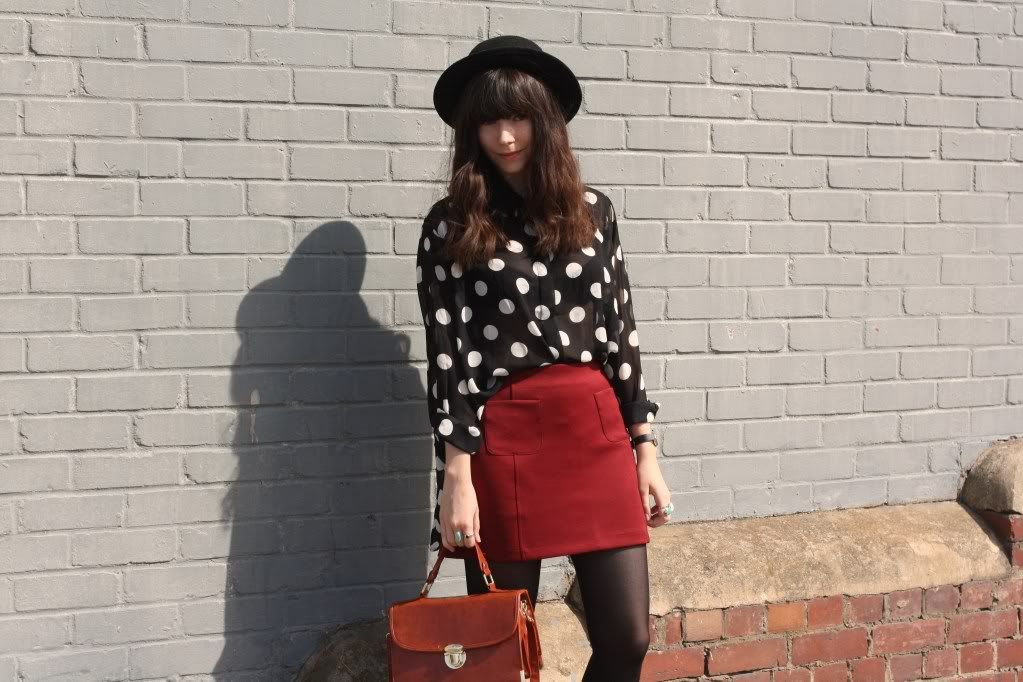 blouse - minkpink@asos, skirt - newlook, loafers - topshop
here's the blouse from a couple of posts ago! it is
amazing
. i find it really quite hard not to incorporate a polka dot of some kind into every outfit i wear. and burgundy continues it's run as my current favourite colour.
these photos have really made me realise my hair needs a cut.. complete frizzy mess here. cut back up to the shoulders it is!
i've been asking you to comment with any questions you have so that you could get to know me a bit more. i don't really talk much about myself on this blog past what i'm wearing/what i want to be wearing, so i thought it'd be nice to answer some questions. et voila -
what kind of camera and lens do you use?

i use a canon 1000d, and usually a 50mm 1.8 lens. i have to say, i bought the camera for the sole purpose of blogging, and don't really know how to use it properly (awful, i know). but i do intend to learn soon!


how do you deal with the fitting issue when ordering online?

until i read this question, i'd never even thought about this. i've been a size uk10 for aslong as i can remember, and always order this size unless something looks a bit tight and then i'll order a 12. a few sites have started using user reviews which i find really helpful, it's so handy to be able to know other peoples experiences with the item i'm hoping to buy.
otherwise, if something does happen not to fit, then almost all stores have a free returns policy and so i'll just send it back.


who are the people you find most fashionably inspiring?

i always, always answer this question with alexa chung. i know it's such a blogger cliche, but she never gets it wrong. but, let's be honest, she's not got the most attainable wardrobe, and barely anyone is actually that beautiful. so, really, i get most of my inspiration from other bloggers. it's inspiring seeing real people wearing real clothes, and with real opinions too. i really am so pleased to be a part of this community!


when did your passion for hats start?

i don't think i do have a passion for hats. i have a passion for HAT, singular, because i do always wear the same black bowler hat in every single outfit. this isn't necessarily through choice - for a start, i can't find any other cheap, nice replacements. and also, i really think that hats help ground your outfit, and my photos look so sparse and dull without them. in reality i only own 3 hats, the black one and two straw hats!


how do you style your hair? is it your natural colour?

i've never been fussed about my hair. it's so, so thick (i have the same amount of hair on my head as 3 people, apparently) and is neither naturally straight, curly or wavy. it's just a mess. usually i dry it quickly with a hairdryer (without using any products usually), then straighten it to get rid of the frizz, then curl it with a conical wand. that's pretty much it, i've never liked my hair all that much. and it is my natural colour, i have dyed it various shades of brown in the past though. i have to admit i do love brown hair, i'd never change the colour of it.


what is your day job? do you wear your outfits to work?

my day job is nothing at all to do with fashion. i've been a trainee accountant for 4 years now, which means i work 9-5 in an office monday to friday. it's not the most ideal job for me, but it pays the bills (and my clothing habit..) and working with great people helps. it's not what i want to do career-wise (though i don't know what i do want to do either) but it is a very good job. i have to wear boring, smart outfits for work, which being a blogger and fashion enthusiast, is very difficult. it's just plain black trousers/plain top or blouse for me.
worst part of my job for sure!


do you work in fashion or aspire to work as a stylist, or is blogging just a hobby?

as above, so blogging is just a hobby for me right now. i'd love to work in fashion, sure, but i think the fashion world can be very fast paced and intimidating and i'm just not into that kind of job. i would love to be a stylist, but i don't have any interest really in fashion weeks/editorials/collections (ah, blogger suicide i know!) because they are just not attainable to me and i like relatable fashion that i can afford. but if an opportunity came along i sure would take it!


what else do you like to do when you're not blogging?

the same as most people, i guess. i'm a big big music lover (
last.fm profile here for anyone interested
), and love a good cinema trip/film night. i also love finding a new tv show to watch, buying the boxset and getting engrossed in it. i don't drink, so i'm not a big night out/club person, i prefer a relaxing pub trip with a coke in my hand. i'm quite laid back so i'm happiest just hanging out, grabbing a starbucks and talking about anything and everything.
so there, i hope i answered them all! if you have any more questions then leave them in a comment and i'll try to answer them.